Introduction CRM for Marketing Campaigns
In today's digital age, marketing campaigns have evolved significantly, becoming increasingly data-driven and personalized. To effectively engage with customers, marketers must leverage the right tools and strategies.CRM for Marketing Campaigns has emerged as a crucial asset for crafting and executing successful marketing campaigns. In this comprehensive article, we will explore the role of CRM in marketing campaigns, its features and benefits, and provide practical insights on how to leverage it effectively.
Understanding CRM for Marketing Campaigns
Customer Relationship Management (CRM) for marketing campaigns is a strategic approach to managing and analyzing interactions with customers and potential customers. It encompasses the use of CRM software, data analysis, and automation to better understand customer behaviour, segment audiences, and create highly targeted marketing campaigns. CRM serves as the foundation for delivering personalized and relevant messages, ultimately driving customer engagement and conversions.
Key Features of CRM for Marketing Campaigns
Data Centralization:
CRM systems serve as centralized repositories for customer information, enabling marketers to access and analyze customer data from various touchpoints, such as website visits, social media interactions, and email communication.
Lead Management:
CRM tools help marketers capture, track, and nurture leads, providing a systematic way to move potential customers through the sales funnel.
Customer Segmentation:
Segmentation is crucial for creating highly targeted marketing campaigns. CRM software allows marketers to categorize customers based on demographics, behaviour, interests, and other factors.
Automation:
Automation features in CRM systems facilitate scheduling and delivering personalized content to segmented audiences.. This functionality streamlines marketing processes and ensures that the right content reaches the right audience at the right time.
Communication Tracking:
CRM tools record all interactions with customers, providing valuable insights into engagement and allowing for more informed follow-up actions.
Reporting and Analytics:
CRM software offers robust reporting and analytics capabilities, helping marketers assess the performance of their campaigns. Which identifies areas for improvement, and makes data-driven decisions.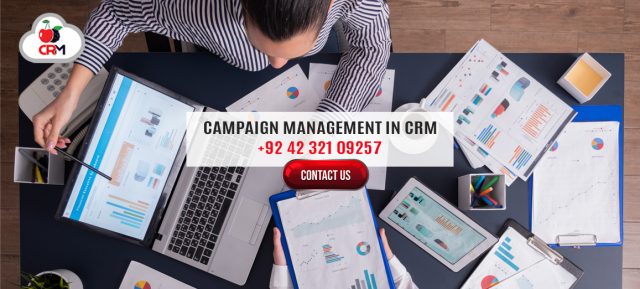 Benefits of Using CRM for Marketing Campaigns
Improved Personalization:
CRM software empowers marketers to create highly personalized campaigns. Which is based on individual customer preferences and behaviours, resulting in higher engagement and conversion rates.
Enhanced Customer Retention:
By better understanding customer needs and providing tailored content and offers, CRM can significantly boost customer loyalty and retention.
Cost Efficiency:
Automation within CRM systems streamlines marketing processes, reducing the time and resources required to execute campaigns effectively.
Data-Driven Decision Making:
CRM provides valuable data and insights that inform marketing strategies, ensuring that resources are allocated to the most effective channels.
Multi-Channel Integration:
CRM platforms often integrate with various communication channels, enabling marketers to maintain consistent messaging across email, social media, and other customer touchpoints.
Leveraging CRM
Data Quality and Management:
The effectiveness of CRM for marketing campaigns heavily relies on the quality and accuracy of customer data. Regularly update and cleanse your CRM data to ensure it remains relevant and reliable.
Lead Scoring:
Implement lead scoring within your CRM to prioritize leads based on their likelihood to convert. This allows you to focus your marketing efforts on the most promising prospects.
Segmentation Strategy:
Develop a clear segmentation strategy based on demographics, behaviour, and other relevant criteria. This will help you tailor your campaigns to different audience segments.
Automation Rules:
Utilize the automation capabilities of your CRM to set up personalized email workflows, trigger responses to customer actions, and schedule campaigns for optimal engagement.
A/B Testing:
Continuously test different elements of your marketing campaigns, such as subject lines, content, and call-to-action buttons, to refine your approach and improve results.
The impact of CRM for Marketing Campaigns on customer experience
The impact of marketing campaigns on customer experience is profound and positive. CRM tools enable businesses to gather and analyze data, allowing them to gain a deeper understanding of their customer's preferences, behaviours, and needs. Armed with this insight, companies can create highly personalized and relevant marketing campaigns that resonate with their audience. When customers receive content and offers that are tailored to their interests, it enhances their overall experience with the brand. Furthermore, CRM enables seamless communication and engagement, ensuring that customers receive consistent and timely messages across various channels. This personalized and streamlined approach not only fosters customer satisfaction but also leads to stronger customer loyalty and trust. Ultimately, CRM is a key driver in delivering exceptional customer experiences, resulting in improved retention rates and long-term success for businesses.
Conclusion
In today's hyper-competitive business environment, leveraging CRM for marketing campaigns is not just an option; it's a necessity. CRM software empowers marketers to create highly personalized, data-driven campaigns that engage customers and drive business growth. By centralizing customer data, automating processes, and utilizing segmentation and analytics, companies can craft marketing campaigns that resonate with their target audience, resulting in increased customer satisfaction and revenue. To remain competitive in the modern marketplace, integrating CRM into your marketing strategy is essential. Cherry Berry CRM is the ultimate solution for your business-related issues.