Businesses face many challenges on an everyday basis, ranging from the need to coordinate appointments to juggling multiple projects. A CRM task scheduler software in Lahore, Pakistan is a powerful solution for these problems. It eliminates repetitive tasks, optimizes workflow, reduces errors and produces enhanced scheduling features. 
Let's examine the advantages of CRM software for businesses of every type, emphasizing its ability to improve productivity.
Features And Benefits of Task Scheduler
The adoption of task management and workflow automation has improved the way contractors conduct business. Additionally, it enables contractors to easily expand their firms. Task management is the key feature of task scheduler software in Lahore, Pakistan. 
Automating repetitive work is one of the main benefits of CRM task management software. It might take a lot of time and be prone to errors to manually enter client data, project information, and communication.
CRM software automates the collection and organization of data, which streamlines the process. By doing this, less manual input is required, saving contractors valuable time, which they can use to do more important tasks.
CRM software enables contractors to concentrate on their primary duties and give client satisfaction a priority by automating chores like producing estimates, billing, and scheduling follow-ups. This automation reduces the amount of administrative work, simplifies processes, and boosts productivity.
It also comes with features to:
1 – Get Rid Of Errors
In businesses of all types, inaccurate information and mistakes can result in expensive delays and misunderstandings. CRM task scheduler software in Lahore, Pakistan ensures uniformity across all project-related duties and helps contractors reduce errors by centralizing data.
Contractors can keep a central database that captures client preferences, project requirements, and communication history using CRM software. As a result, there will be no need for manual record-keeping and there will be less chance of misunderstandings or information loss.
Contractors can make better decisions, give accurate estimates, and complete projects with greater accuracy and dependability if accurate and current data is easily accessible.
2 – Better Scheduling Of Tasks And Events
An essential component of effective project management is effective scheduling. Contractors can efficiently manage resources, timeframes, and deadlines thanks to CRM task management software's extensive scheduling features.
Contractors can use the program to make thorough project schedules, allocate duties to team members or subcontractors, and monitor development in real-time. It offers a consolidated platform for viewing each task's status. By doing this, it is made sure that everyone is on the same page.
Potential bottlenecks are simple for contractors to spot, and schedules and resource allocation can be changed accordingly. This planned approach to scheduling improves customer happiness, delays, and project efficiency.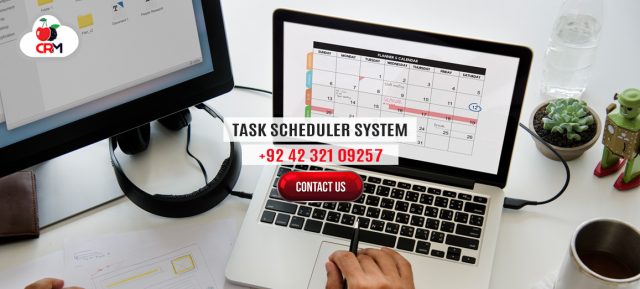 3 – Makes Project Management Efficient
For contractors in any business, managing responsibilities across several different projects can be a daunting undertaking. An appropriate CRM task management software makes this process simpler. Now, contractors may give a thorough overview of all projects that are currently in progress and the deadlines attached to them.
Within the CRM program, contractors can make work lists, assign roles, and define priorities. On tasks that have been assigned, team members receive notifications and updates. This encourages productive teamwork and makes sure that everyone is working toward the same project objectives.
CRM software also enables contractors to monitor work progress, spot possible problems, and act quickly to fix them. This simplified approach to project management lessens uncertainty, improves responsibility, and makes it easier to complete projects successfully.
4 – Manages Workflow Efficiently
Meeting project deadlines and maintaining operational efficiency depend on effective workflow management. Contractors can build and automate workflows for their unique needs using CRM task scheduler software in Lahore, Pakistan.
CRM software enables contractors to keep track of the status of their workflows and streamline procedures for optimal effectiveness. This methodical approach increases production overall, avoids delays, and improves project collaboration.
Choose The Right Task Scheduler Software For Efficient Time Management
All businesses can profit greatly from the Cherryberry CRM Task Scheduler Software in Lahore, Pakistan. Leap gives contractors the power to optimize their daily operations and produce better outcomes on the job site by getting rid of repetitive chores, cutting down on errors, and offering improved scheduling.