Simplify Financial Reporting with Consolidated Reporting Solutions
Today, data is considered the lifeblood and raw material of modern business that fuels the transformation of any enterprise. The advancements in technology have enabled companies to access an abundance of data from multiple resources such as files, databases and other applications. This data not only offers valuable insights and information about the latest market trends but also empowers companies to enhance their customer experiences, optimise business processes and make informed decisions to increase turnover. However, proper unification of data to get consolidated reports and extract value from data to enhance performance is not possible without Consolidated Reporting Solutions. Let's dive deep into how enterprises can meet the challenges efficiently that lie in the analysis and processing of business data.
What are Consolidated Reporting Solutions?
Finance professionals of an enterprise responsible for closing and reporting the financial results know the challenges. They have to manage multiple data sources and manual agreements while following complicated accounting rules and audit requirements. Meanwhile, this task is also very time-consuming. However, you can accelerate and automate your enterprise financial consolidation process while making sure compliance, transparency and accuracy. You just need a solution that can manage simple to complex consolidation scenarios with real-time performance visibility. 
Consolidated Reporting Solutions offer a holistic view of your business operations. They are software applications in CRM designed to streamline complicated financial consolidation processes and integrate data from various sources. Sales and marketing databases, financial systems, customer relationship management tools, and human resource management systems are a few examples of these sources. These solutions allow the creation of a unified and standardized report that provides important business metrics and key performance indicators in an easy format. In this way, businesses can access a comprehensive overview of their performance, detect anomalies and improve decision-making. 
Combined Reporting or Consolidating Reporting? The Difference
They both provide different information regarding a business's performance. Combined reporting contains the statements of financial activities of all connected companies in a single document. In this report, there is a separate performance of each entity with individual financial status to help identify the individual company's performance. Meanwhile, consolidated reporting involves the combined report of a single entity with the overall performance of a company.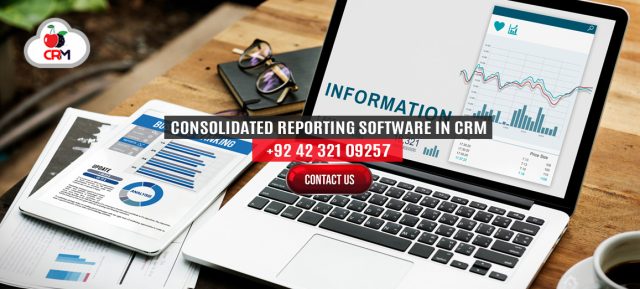 Advantages of Consolidated Financial Reporting
It allows you to centralize the processing of your company's transactions and get detailed insight into historical transactions along with real-time data. The audit-friendly reporting facility ensures data integrity and accuracy.

Moreover, it contains cloud-based technology that allows enterprise administration to monitor and track the progress anytime, anywhere. This further helps them to make better and more informed decisions after taking a bird's eye view of business performance. 

There is always the risk of data breaches in financial consolidation, but our Consolidated Reporting Solutions come with advanced firewalls and SSL encryption.

Manual financial data consolidation is a time-consuming task and there is also the risk of errors. In Cherry Berry CRM data consolidated solutions, the automated process saves your valuable time and reduces the risk of confusion and errors.

It helps companies that deal with large and complex data at the group level to access an aggregated view of their business performance.
Wrapping Up
Consolidated Reporting Solutions enable enterprises to harness the power of their valuable business data to drive growth. The consolidation of information from various sources into a unified and simplified format offers detailed insights into business performance. It further facilitates decision-makers to make better decisions to stay higher in the market competition. Take advantage of Cherry Berry CRM solutions to take your best business to the next level in the competitive market.