Time is of the importance when you are running a business. But with so much to consider, it's frequently simple to become bogged down by duties that may divert your attention from the core objectives of the company. This is when Accounts Management Software Solutions come in handy. 
These activities can drain available energy and waste priceless resources, which eventually stunts a company's expansion. Fortunately, there is a fix; accounting software may offer a wide range of advantages that can save you both money and valuable time.
We'll look at the benefits accounting software can provide for your company in this blog.
Let's get going.
Accounting Software – What Is It?
Accounts Management Software Solutions are computer-based program made to help individuals and businesses manage their financial data, keep track of their earnings and expenses, and generate financial reports.
The program streamlines and accurately performs a variety of accounting duties by automating the recording of financial transactions, computing taxes, and creating invoices. It can also be integrated with current payment processors.
It can be tailored to match the unique demands of each organization and is usable by companies of all shapes and sizes, from small sole proprietorships to huge conglomerates.
What Accounting Software Can Do For You
1 – Make your processes automated
Accounting software can automate numerous repetitive procedures that take a lot of time to complete manually.
Automation can successfully handle processes like data import, bookkeeping, payroll, financial reports, invoicing, and payment reminders, making time-consuming accounting procedures simpler and quicker to do.
2 – Improve organization
It's simple to misplace or lose items like receipts or invoices when managing so many duties at once.
However, by digitizing your accounting procedures and saving data in one secure location with the help of this software, key administrative documents may be kept together safely and accessible later to be examined, reprinted, and resent as necessary.
In addition, the software gives you the option to set up reminders, which can be crucial for keeping you organized and on top of things without the worry of missing a deadline.
3 – Reduce mistakes
Everyone makes errors. However, making a financial mistake may be expensive and stressful.
It's simple to make mistakes when working under pressure, crunching numbers, and performing intricate computations.
The following are a few of the most typical accounting errors:
Errors in data entry, such as entering a number inadvertently or recording transactions in the wrong account

Duplication: A transaction receives credit or debit twice.

Omission: A record is missed even though the transaction takes place.

If you don't reconcile your books, your financial statements and tax returns will be incorrect.
Accounts Management Software Solutions, on the other hand, may fully avoid many of these errors, resulting in more accurate and well-organized records.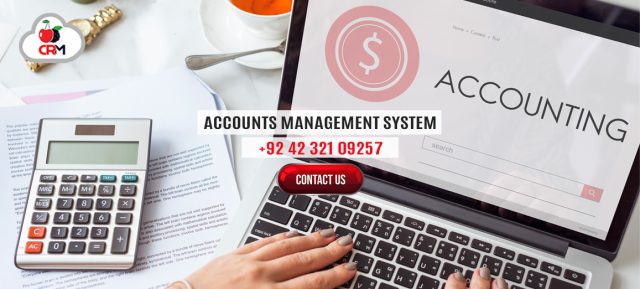 4 – Become more aware of your financial situation
For your company to expand, it is essential to understand how it is doing, but without the proper metrics in place, this can be challenging to determine. Accounting software may give you a precise picture of your financial situation and deeper insights into how your company is performing, enabling you to make decisions that are informed by data with confidence.
Access to this data at any time can make it easier to pinpoint important development locations.
5 – Produce thorough reports
Accounting software also helps you to quickly build and extract reports on your accounts, which can help you obtain a clearer understanding of your financial situation.
There is a report on every aspect of accounting, including accounts receivable, accounts payable, and account trial balances. Having all of this data in one place is very helpful for monitoring your cash flow and getting frequent insight into any patterns that can point to possibilities crucial to your earnings.
It is also a useful tool to have on hand when explaining financial information to other team members or stakeholders in the business.
6 – Automate and digitalize your billing processes
The process of creating invoices can take some time. Paper invoices and receipts might be simple to lose track of and misplace, as was already indicated.
Using accounting software, you may plan and automate the creation of your invoices. In addition, you can create them from scratch using a professional, customizable template. When sending out large volumes or asking for consistent payments from your clients, this can save a ton of time.
Not to mention that it avoids the expenses and administration of physically mailing them out. This frequently proves easier to handle for you and your staff as well as the client who will be getting the invoice.
A conclusion
You now know the advantages of using accounting software.
Get the best Accounts Management Software Solutions from Cherryberry CRM for businesses of all types!