What Is The Role Of Real Estate CRM Software In Lahore Pakistan
The use of real estate CRM software in Lahore Pakistan has revolutionized property management and transactions. It does so by streamlining processes, enhancing efficiency, and optimizing decision-making in the industry. The software offers versatile tools that enable professionals to manage listings, track leads, and automate marketing campaigns. They provide robust analytics to empower users in making data-driven decisions. Additionally, real estate software facilitates collaboration among agents, buyers, and sellers. This helps to improve communication and transparency in the process. From property management systems to CRM platforms, these solutions enhance the overall real estate experience. In an increasingly digital world, the integration of CR software into the real estate industry has become an indispensable asset for professionals in the industry. In an increasingly competitive industry, the use of CRM has become a cornerstone for success, reshaping how real estate professionals operate and deliver exceptional service.
Benefits Of Using The Real Estate CRM Software In Lahore Pakistan
Real estate CRM software in Lahore Pakistan plays a pivotal role in this industry. The incorporation of a robust and efficient CRM system into the real estate industry has brought numerous benefits to the agents and the real estate agencies alike. The use of this software streamline processes to drive business growth. This system offers excellent client relationship management; the fundamental factor governing this industry. By removing administrative boundaries and bridging gaps, CRM software focuses on building relationships with the clients. 
Real estate CRM software facilitates timely and personalized communication with clients, brokers, and agents. Agents can easily send automated emails, schedule follow-ups, and maintain detailed client records, enhancing client engagement and satisfaction. By introducing automation, processes are streamlined, saving a considerable amount of time and money.
Automation and digitalization bring efficiency as manual workload is reduced and errors are minimized. This frees up time for agents to focus on building relationships and closing deals. The system centralizes data, optimizes workflows, and improves customer services.
CRM tools enable targeted marketing campaigns by segmenting clients based on their preferences and behavior. Agents can share property listings, market updates, and newsletters with relevant clients, increasing the chances of conversion.
Documentation & Compliance
Real estate CRM software in Lahore Pakistan offers you centralized accessibility to crucial records, including property information, service records, and transaction documentation. It eliminates the hassle of sifting through numerous documents when you simply need to share the most recent property report with potential leads.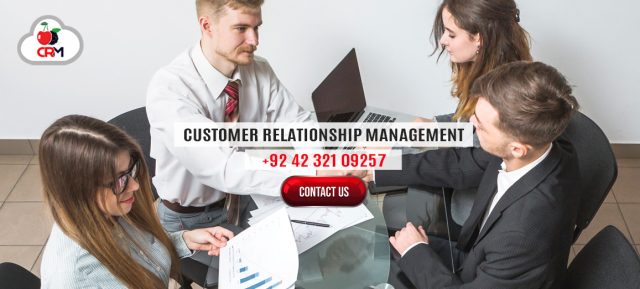 The CRM software centralizes and organizes prospective client information from diverse origins, including social media, offline promotions, physical business cards, and online campaigns. Robust lead tracking allows monitoring lead status, interactions, and preferences. Lead management involves personalized communication, nurturing leads over time.
Choosing The Right Real Estate CRM Software
While choosing the right software, look for these features:
Powerful In-Build Analytics
Software is integrated with tools to provide real-time data and analytics. It presents valuable insights into various aspects of the real estate business, such as lead conversion rates, sales performance, and market trends.
The software allows compatibility with other tools and platforms, including email, marketing software and accounting systems. This integration helps data flow, eliminates errors, and ensures access of agents to all relevant information.
A mobile app with a responsive design and interface allows clients for on-the-go access to critical information and tasks via their mobile devices. Mobile accessibility facilitates communication and decision-making, contributing to the success of real estate professionals on the go.
The software has built-in marketing features for sending property listings, newsletters, and updates to clients via email. It enables personalized communication with automated follow-ups to not only save time but also enhance engagement with clients. 
To ensure security of the client's information, the software uses tools to limit access to client data. It exercises several levels of control to prevent breaching of privacy and data tampering. 
An ideal real estate CRM is a comprehensive solution tailored to meet your industry's demands. Using features to manage leads, manage property and documentation, manage finances and invoices, and keep your data secure, CRM software is made ideal for real estate agencies. CRM software offers automated marketing campaigns. To find out the most suitable real estate CRM software in Lahore Pakistan, visit CherryBerry CRM.
Seize The Opportunity To Fuel Your Growth
The real estate CRM system handles everything from handling incoming inquiries and generating price quotes to managing commercial property sales and property maintenance, providing comprehensive process management for real estate agencies from start to finish. Customization options, scalability, and top-notch security makes the real estate CRM software in Lahore Pakistan an indispensable asset for those seeking efficiency, growth, and success.