Data import, or the capacity to use data generated by a separate software, is one of the most widely used procedures in data transmission. Administrators with the necessary permissions can export program, application, and course data with the help of the data import/export utility, which is a strong and practical tool. Through an interface that both inserts and updates data into the system in accordance with predefined business logic rules, this capability enables system administrators to import specific types of data. These make it essential to have data import and export software in Lahore, Pakistan. 
The Importance Of Data Import And Export For Businesses
Consider the following factors while choosing data import software for your company:
1 – Maintaining Formatting And Data Structure During Transfer
Tools for importing data can maintain the appropriate formatting and structure, giving you greater flexibility when using them, especially when you need to import records.
In reality, a number of scenarios are considered when designing data-importing tools, including:
Data export for usage in other systems for analysis, trending, and statistics for profiles, programs, and applications

Batch import of user profiles, application data, and domestic and international courses from legacy systems

Data import and export to enable data updates when offline editing is more effective for applications, profiles, programs, and courses
2 – Convenient Data Modification For Just Authorized Users
Due to the volatility of the altered data, data import/export functions necessitate extreme vigilance. Permissions should only be granted to qualified and trustworthy individuals because many programs give end users who have access to them a lot of power.
Actually, there are a lot of safety features included in the import procedure to guard against importing incorrect data into the database. However, importing data can cause very large-scale data changes that are not what is expected, necessitating another import of backup data. In order to prevent such intrusions, limited access is a wonderful security strategy.
3 – Quick And Precise Data Import And Export
Data templates with column headings make it simple to import data into a particular location in an organized manner, enabling speedy and precise data transfer. Furthermore, if there are any issues with the import procedure, errors and cautions are openly displayed so that you can quickly fix the problems with a submitted file.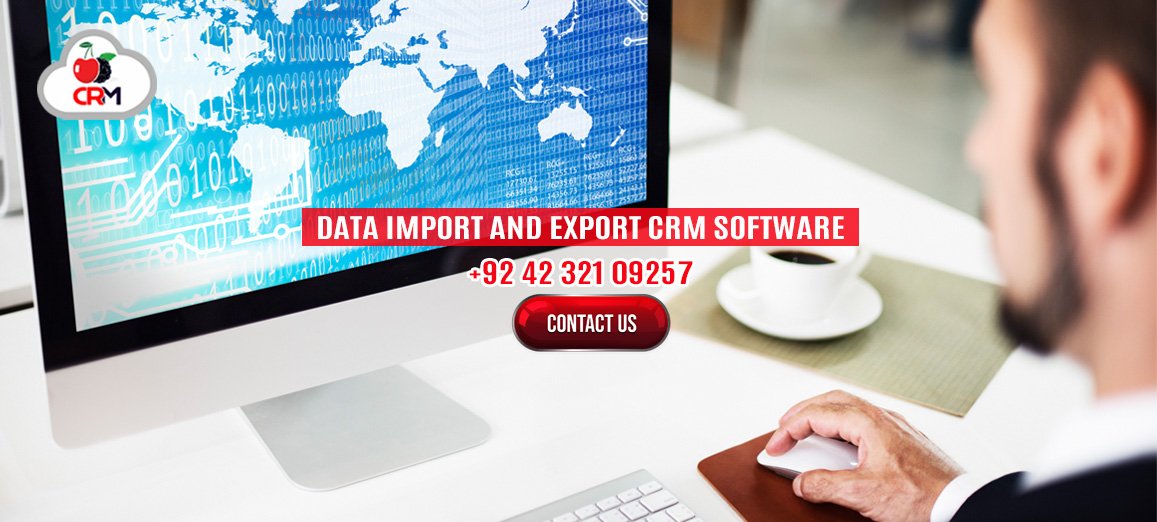 How Data Import And Export Software in Lahore, Pakistan Boosts The Efficiency of Your Business
The capacity to easily import and export data between different systems is crucial in a business environment that is becoming more connected. Businesses wishing to simplify their financial processes and integrate their accounting system with other tools and platforms can benefit from CRM software with data import and export software in Lahore, Pakistan. We will now go over the advantages of adopting accounting software that allows for data import and export as well as how it may help your organization succeed as a whole.
1 – Integrated Seamlessly With Other Systems
The ability to effortlessly interact with other systems, like as CRM, inventory management, and payroll software, is one of the main advantages of adopting accounting software with data import and export capabilities. By facilitating the movement of financial data between various platforms, this connection enables organizations to maintain the accuracy and consistency of their data across all platforms.
2 – Time And Money Saved
Manual data entry and transmission across systems can take a long time and be error-prone. These procedures are automated by accounting software with data import and export capabilities, cutting down on the time spent on manual work and the possibility of human error. The time and money saved from this increased efficiency allow firms to devote resources to more important tasks.
3 – More Accurate Data
Accounting software lowers the chance of data entry errors by automating the import and export of data. For the purpose of making informed business decisions and preserving compliance with financial requirements, this guarantees that financial records continue to be accurate and consistent.
4 – Improved Decision-Making And Reporting
Businesses can create thorough reports that integrate data from several sources using accounting software with data import and export features. Businesses can get a more comprehensive picture of their financial performance and improve decision-making and strategic planning by combining data from various platforms.
5 – Data Backup And Migration Made Simple
Businesses frequently need to move their current financial data when deploying a new software solution or migrating to a new accounting system. This process is streamlined by accounting software that supports data import and export, making it simpler to transmit information across systems without data loss or corruption. Additionally, having the option to export data enables companies to make backup copies of their financial records, guaranteeing the preservation of crucial data in the event of system outages or other problems.
6 – Adaptability And Scaling
Businesses' demands and requirements may alter as they expand and change. The accounting system can be easily integrated with new systems or software solutions thanks to accounting software with data import and export capabilities, ensuring that it remains an important tool as the company grows. This versatility guarantees that firms may keep streamlining their processes and upholding effective workflows as they grow.
Choosing The Right Data Import And Export Software For Your Business In Lahore, Pakistan
For companies wishing to automate their financial procedures and integrate their accounting system with other tools and platforms, CRM software with data import and export software in Lahore, Pakistan, offers a variety of advantages. Accounting software with data import and export features can considerably improve reporting and decision-making by promoting smooth integration, enhancing data accuracy, and permitting improved data integration. Any company looking to improve its financial management and promote long-term growth would be sensible to invest in such software. Get Cherryberry CRM for complete features of data import and export today!