An Overview of Task Scheduler Software Solutions
In today's fast-paced world, managing time efficiently is a key factor in achieving personal and professional success. Task Scheduler Software Solutions have emerged as invaluable tools, helping individuals and businesses streamline their operations and boost productivity. This article explores the significance of task scheduler software solutions and their various applications across different sectors.
1. Introduction to Task Scheduler Software Solutions
Task Scheduler Software Solutions have revolutionized the way we manage our time and responsibilities. These versatile tools enable users to schedule, automate, and monitor various tasks, reducing the burden of manual intervention and increasing overall efficiency. Whether you're an individual looking to stay organized or a business aiming to optimize workflows, task scheduler software can be a game-changer.
2. Enhancing Personal Productivity
For individuals, this software solution is a lifeline in the age of multitasking. With features like to-do lists, reminders, and calendar integrations, these tools help individuals organize their daily routines. Whether it's remembering important meetings, setting deadlines, or juggling personal and professional commitments, task schedulers keep you on track.
3. Business Process Optimization
In the corporate world, time is money, and task scheduler software solutions are indispensable for businesses of all sizes. They play a crucial role in optimizing processes, ensuring that routine tasks are automated, and employees can focus on high-value activities. From generating reports and data analysis to managing email campaigns, businesses rely on task schedulers to maintain efficiency.
4. Automating Routine Tasks
One of the primary functions of task scheduler software is to automate repetitive tasks. For example, it can automatically generate daily reports, update databases, or send out routine communications. Automation not only saves time but also reduces the risk of human error, enhancing the overall quality of work.
5. Seamless Integration with Applications
These software solutions often offer integration with various applications, making them highly adaptable to the user's specific needs. Whether you're using project management tools, customer relationship management software, or email platforms, task schedulers can seamlessly coordinate tasks and communication.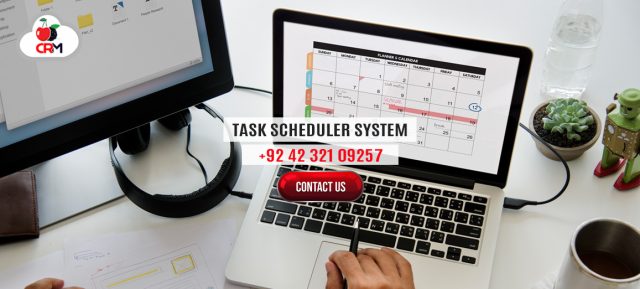 6. Customization for Diverse Workflows
Every business operates differently, and task scheduler software is designed to accommodate various workflows. Users can customize task sequences, set up dependencies, and allocate resources efficiently. Whether it's managing inventory, coordinating marketing efforts, or handling customer support, customization is key.
7. Centralized Task Management Through Task scheduler software solutions
Maintaining a centralized view of tasks and their statuses is essential for project managers and teams. This scheduler software solution provides a single platform for management, allowing users to assign, track, and report on tasks in real-time. This centralized approach minimizes confusion and ensures everyone is on the same page.
8. Enhancing Collaboration and Communication
Effective collaboration is a hallmark of successful businesses. Task schedulers promote communication by sending notifications, updates, and alerts to team members. This ensures that everyone is informed and aligned, contributing to the achievement of common goals.
9. Security and Data Protection
In an era of increasing cyber threats, data security is a top priority for businesses. These scheduler software solutions often come equipped with security features to protect sensitive information. They support secure data transfer and authentication, mitigating the risks associated with data breaches.
10. Maximizing Resources
Task schedulers help organizations optimize resource allocation. Whether it's managing human resources, budgeting, or allocating equipment, these tools ensure that resources are used efficiently to maximize productivity.
Task Scheduler Software Solutions: A Versatile Asset
In conclusion, task scheduler software solutions have become indispensable for individuals and businesses looking to boost efficiency and productivity. By automating routine tasks, enhancing collaboration, and customizing workflows, these tools empower users to make the most of their time and resources. Whether you're a professional aiming to manage your personal life or a business leader looking to optimize operations, Cherry Berry CRM offer a versatile asset in today's fast-paced world.